In 2010, Lisa Heverly was working at Barth Elementary in Pottstown. With two young children at the school, she could see first hand that some of her kids' classmates were dealing with difficult situations. When she was asked to be the School Coordinator for a new backpack program started by True to Life Ministries, she couldn't have imagined what is now Operation 143.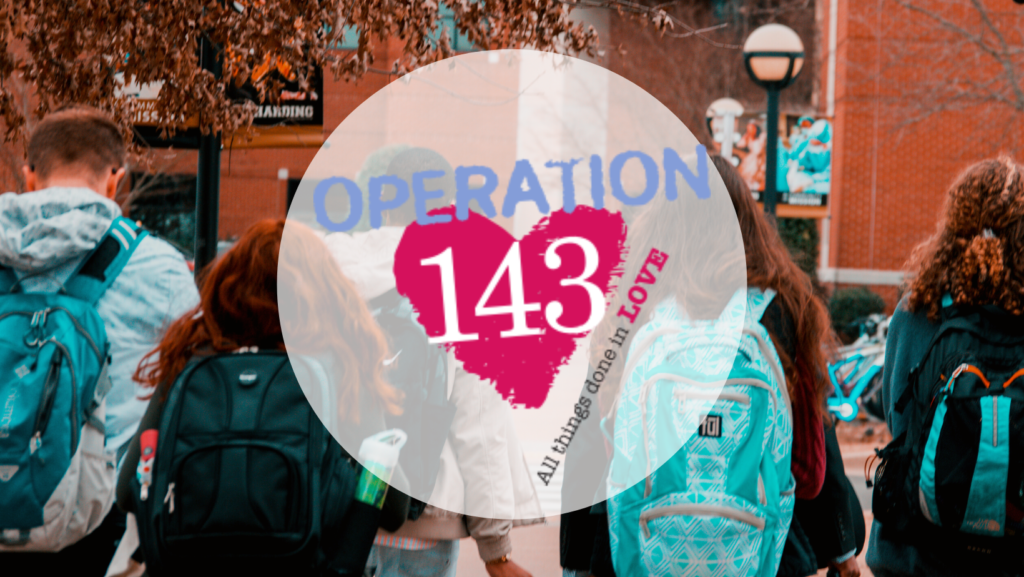 She answered God's call again when she was asked to coordinate the food backpack program for all the schools in the district in 2011. In April of 2013, Operation143 got its start as Operation Backpack and became a 501c3 corporation.
In the last decade, the scope has expanded to 6 local districts but the mission has remained the same. To be the bridge for kids who would otherwise go hungry over the weekends-that time between school provided lunch on Friday and breakfast on Monday.
Just as the 10 year anniversary of this ministry came up, so did the opportunity to refocus, and plan for the future (also known as a stressful time when we had to go through a name change) so we landed on Operation143. If you ever passed notes in class, you might remember seeing the "secret code" of 143 (I LOVE YOU) on a piece of notebook paper. While we weren't thrilled to be going through this transition, we felt that Operation143 captures our motto and inspirational verse:
1 Corinthians 16:14
Let all that you do be done in love.
Our mission is to feed hungry children in our communities. We will keep answering God's call and trusting in His wisdom to do so. Whether it's filling backpacks to drop off at school or filling plastic bags to deliver to homes because of a pandemic.